SPEED LIMITER
Drive by Wire - RDPS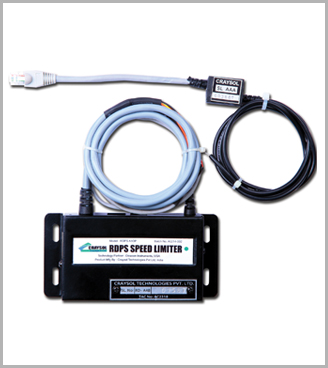 RDPS is a new generation speed limiter developed by Craysol Technologies (India) in technical collaboration with Dewcon instrument (Illinois USA). RDPS uses a patent applied technology. RDPS works on two operational modes (1) For Speed limit Law Enforcement (2) Private use where customers can configure the functioning of the product.
RDPS interfaces with the Engine management module of the vehicle. It has a highly reliable performance due to usage of Risk class processors and use of 100% solid state components. RDPS relies on a 60 MHz high speed processor and FR4 board platform for fast decision making, control performance and smooth driving pleasure. RDPS can be used on all types of vehicles which uses electronic engine management systems and throttle position sensors.
RDPS is approved as per AIS018, GSO1711, GSO1626 and KS2295 Automotive Standards. RDPS protects your vehicle from Rash driving, gives you better safety, better fuel efficiency and lower vehicle maintenance.
Speed limiter is an Electronic / Electro-Mechanical device retro fitted on a vehicle with the purpose of regulating the maximum speed of a vehicle to a set limit. Speed Limiters are of different types based on the vehicle category on which it is used. The two most important flavours are the Drive by Wire System and the Fuel Type System.